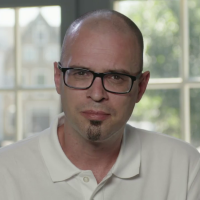 Robin Prijs
Christian Nonfiction, Religion & Spirituality
Profession

Author, manager, founder
Robin was born in the village of Genderen, in the south of The Netherlands. He was born and raised in a Christian family, as the son of a truck driver and a stay at home mom. In his teenage years he developed an above average interest in the occult, causing him to turn his back to the faith and to eventually give his life to satan, at the age of 17. A few years later he came at a point where he wanted to commit suicide. At that point he met some people who started to pray for him. Not long after that he finally surrendered his life to Jesus Christ, but the battle was far from over. It was only just beginning.

In 2000 he started his carreer as a helpdesk employee, after which he grew further to system administrator and junior technical network engineer. In 2005 he made a carreer switch to IT recruiter, which he continued to do for serveral years. He has organized several conferences, seminars and theme-evenings and is the author of several books. Read more about his life story in his book 'Never living a lie again'.
This is the lesson: Never give in ... never, never, never, never ... in nothing, great or small, large or petty-never give in except to convictions of honor or good taste.
Winston Churchill
Socialism is a philosophy of failure, the creed of ignorance, and the gospel of envy, its inherent virtue is the equal sharing of misery.
Winston Churchill
This is no time for ease and comfort. It is the time to dare and endure.
Winston Churchill
To improve is to change to be perfect is to change often.
Winston Churchill
Success is the ability to go from failure to failure without losing your enthusiasm.
Winston Churchill